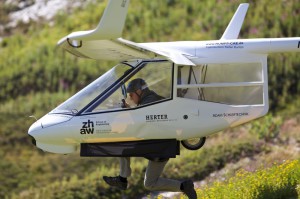 A Swiss company has developed a highly versatile hang glider but with a more rigid body like a sailplane. The company says it can climb rapidly and turn tightly to exploit tiny sources of lift.
The glider is aptly named the Archaeopteryx after a genus of early bird that acted as a bridge between modern birds and feathered dinosaurs. The glider can launch in many configurations: on foot by running off a decent slope, by winch, towed behind a car or light powered aircraft, or by being fired like a slingshot with a bungee. The pilot has the choice of landing on a single wheel aft of the cockpit or by dropping her legs through trap doors and using her feet in a more birdlike fashion.
Removable fairings around the cockpit area turn the Archaeopteryx into a convertible for those hot days. The glider is de-rigged like a sailplane and rides on a trailer. While it's not as compact as a paraglider that can be carried in a backpack, it weighs far less than a sailplane.
Videos on the company's website provide stunning footage of soaring in the Alps.