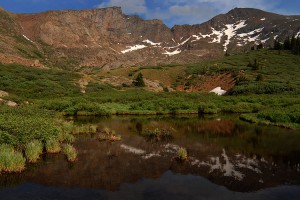 The extremes. That's what Colorado is famous for: altitude, weather and, well, people.
When I first moved to the state nearly five years ago, I decided to climb 14,000-foot Mount Bierstadt during my first few days in town. While it's among the easier of the 14,000-foot mountains in the state, my body had been down at sea level for far too long and I could feel it.
As Copper, my lone dog at the time, and I were halfway up, we saw something strange. Not a yeti but a young guy running down the mountain with a card table strapped to his back. As we were about three quarters of the way up, another guy was heading down, but not at such an alarming clip. Instead of a table, he had mini-keg on his back. He was followed by another guy holding a tin of biscuits and he offered me one.
I had to ask what they were up to.
"Oh, we were just having lunch on the summit," he said.
I laughed. I'd moved to the right place.